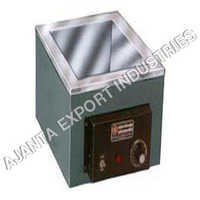 Ultrasonic Cleaner
Product Description
Description:
Most Advance Beach top ultrasonic cleaner for surgeon, hospitals & laboratories puts an end to the potentially dangerous, inefficient, ineffective hand scrubbing of delicate expensive instruments by adopting the cleaning technology used world over.
Features:
SMPS power source ensure an amazing >90 % efficiency, compared to 60% of conventional liner source.
50% of the weight and size of conceptional machines.
Energy saving faster cleaning, higher reliability.
Optional mechanical or pre settable 99 minutes digital countdown timer with display.
Specifications:
Tank Dimension (LXBXH) in mm

Capacity
(Litres)

235x135x65

1.5

235x15x100

2.25

300x150x100

3.5

250x150x150

5.5

300x180x150

8.0

300x200x150

9.0

500x150x150

12.0

350x300x150

21.0

300x300x300

27.0