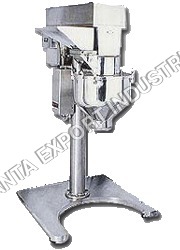 Product Description
The Multi
Mill is useful for various purposes like granulation, shredding, pulverization etc. The unit consists of vertically mounted 3 HP motor which drives the motor shaft through bearing housing. The rotor has 12 Nos. swinging type knife blades and 2 Nos. scrapper blades. The- screen of suitable mesh is mounted outside the rotor and material is fed from S.S. Hopper. All the contact parts are made out of S.S. 304/316q. The unit is mounted on suitable M.S. Stand with castor-wheels and is provided with DOL starter, reversible switch and five numbers of Stainless Steel screens. (Size of Screens to be specified while placing the order).
Same as above but as per GMP Std. M.S. Stand and all visible M.S. Parts are cladded with S.S.
Extra price fur spare screen of any one size of (i.e. 12 / 10/' 8/ 6/ 5/ 4/ 3/ 2/ 0.5mm).