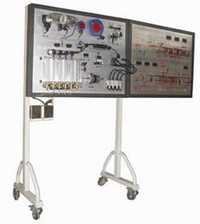 ENGINE FUEL OIL SUPPLY SYSTEM TEST BED
Product Description
ENGINE FUEL OIL SUPPLY SYSTEM TEST BED
Description:

Teaching Function:
It can completely
show the structure and working principle of fuel oil supply system to help students understand
abstract theory.
It can imitate, diagnose and test the common faults and troubles of fuel oil supply system. Train students to analyze and solve practical problems.
Extend items: Multimedia
network teaching, the establishm
ent of specialize
d teaching and learning environmen
t, and standardiz
ed evaluation
system.
Standard Configurat
ion:
Components
are from original Santana 2000GSL, including sensors, actuators and control computers.
It can automatica
lly show the working process of ignition, fuel injection,
idling speed and gasoline pump.
Digital electronic
watch can show working process of all sensors.
Set up breakdown by hand or remote, at most 96 points.